How To Trim A Wig? A Step-by-Step Guide
When you have a new wig, it probably won't be quite as it should be, and that's when you need to make some changes yourself. So how should we trim our wigs? In this post, you will read: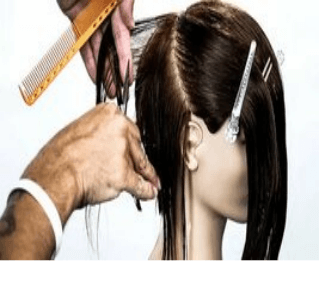 1.Should You Trim a Wig?
2.Can You Trim a Synthetic Wig?
3.Can Human Hair Wigs Be Trimmed Like Synthetic?
4.How to Cut Wig Hair in 4 Different Ways?
5.Conclusion
6.FAQs
Should You Trim a Wig?
Of course, proper trimming can help your wig get a more natural look and can protect your wig to a certain extent.
1. Trim your over-long wig, making your wig shorter or thinner will be closer to the appearance of your natural hair and look more realistic.
2. Adding a bang to your wig can help frame your face well. Straight bangs, curtain bangs, or oblique bangs are all options.
3. When you wear the wig for too long, the end of the wig may be dry and frayed. At this time, simple trimming can make your wig look brand new.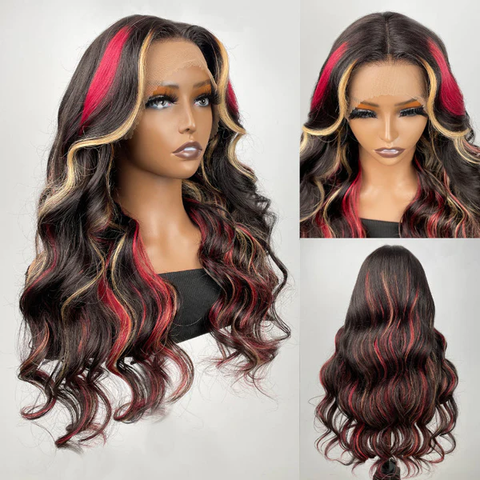 Reasons to Trim a Wig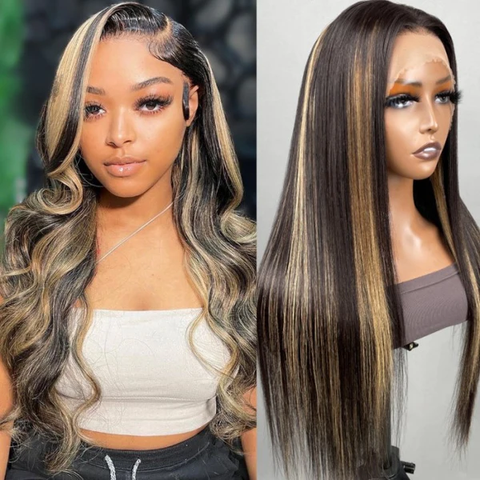 Hair trimming is good not only for your natural hair but also for your wigs. Here are a few reasons why you can't say no to a hair trim:
1. Trimming your real hair not only helps you detangle it but also helps it grow better. When we trim the damaged and frizzy ends, our hair can continue to grow normally, become thick and shiny, and it is also easy to manage.
2. Our trimming on the wig will become more comfortable because you don't have to worry about damaging your real hair. In order to modify the face, you can trim bangs; in order to be cute and cool, you can trim short hair; of course, you can also trim your chic wig into a layered wig shape, adding vitality.
Considerations Before Trimming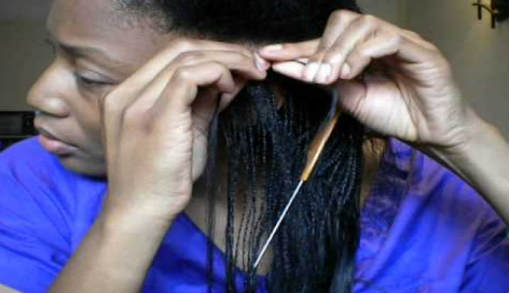 Before building a wig, you need to do some simple preparations, such as the tools you can use, the hairstyle you want to achieve, and some patience and courage.
Tools: scissors, mirror, comb, wig stand.
The hairstyle you want to achieve: short hair, layered wigs, wigs with bangs, etc.
Can You Trim a Synthetic Wig?
Sure. Although synthetic wigs are slightly different fromhuman hair wigsin material, they can also be styled after careful cutting. But it has to be admitted that due to some of the idiosyncrasies of synthetic wigs, it is best to ask your stylist for help before cutting them so that your wigs still look good after they are cut.
Steps to Trim a Synthetic Wig:
1. Place your wig on the wig stand and comb your hair.If you're in a salon then it's best if you wear your synthetic wig so the stylist can make adjustments to your face shape.
2. Start trimming bit by bit according to the hairstyle you decided in advance.Be sure not to put all your hair under the scissors at once, but to trim it strand by strand. If necessary, you can use a few clips to hold the remaining hair up.
3. Trim the whole wig. Let your wig hang down naturally, and then trim the protruding parts one by one. If you like flat ends, you can trim them horizontally; but if you like layered hairstyles, start trimming at a 45-degree angle.
4. Treat your hair.When all the steps are done, you can use the wig care spray to care for your wig and style it.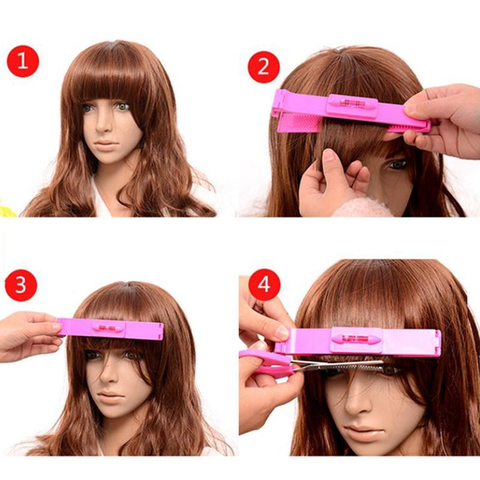 Can Human Hair Wigs Be Trimmed Like Synthetic?
Real human hair has always been known for its flexibility and versatility, so you can cut it without worry.
Differences Between Trimming Human Hair and Synthetic Wigs:
These two kinds of wigs have certain differences in materials and uses.
Human hair can be restyled, bleached, etc., and to a certain extent heat styling tools. Synthetic hair, on the other hand, cannot use heat styling tools and is less functional.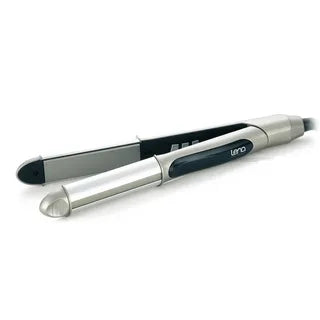 Tips for Trimming Human Hair Wigs:
The tools and methods used in the above-mentioned synthetic wigs are applicable to human hair, and when you complete all the steps, you can also use curling irons and so on for styling.
And because the texture of human hair is soft and shiny, we can do it independently at home when we trim it.
How to Cut Wig Hair in 4 Different Ways?
Method 1: Trimming with Scissors. This is the most common and common method, but it requires certain hair-cutting skills to complete.
Method 2: Using a Wig Trimmer. Wig trimmers offer precise control and can be especially useful for creating intricate styles.
Method 3: Razor Cutting. It is usually used the most when trimming men's wigs, and it can help you get a short hairstyle very well.
Method 4: Thinning Shears: Thinning shears, also known as texturizing shears, are specialized scissors with serrated edges. They are used to remove bulk and add texture to the wig hair.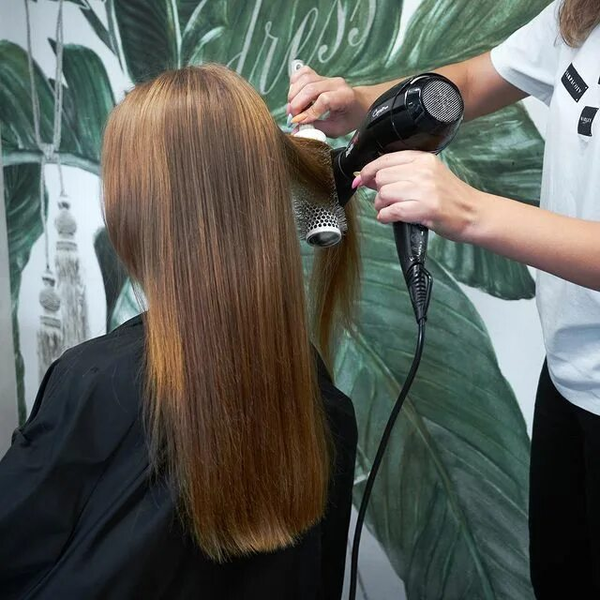 Conclusion
Adding some face-framing layers will make your wig flawless, and getting your wig trimmed regularly will also boost your well-being. Seeing this, you must have mastered a lot of skills in trimming wigs. Keep reading, I hope the following content can help you solve your other questions.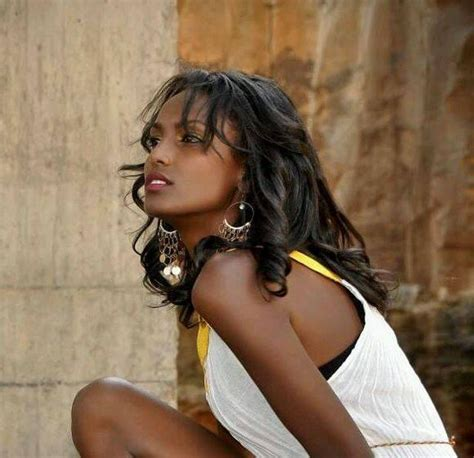 FAQs
Can I trim a wig myself, or should I go to a professional?
Of course, if you're just shortening your wig then you're perfectly fine, but if you want to add a fringe or cut it on a synthetic wig, a professional hairstylist can do a better job of helping you.
How often should I trim my wig?
It depends on how often you wear the wig and your needs for the hairstyle. As a general guideline, consider trimming every 2-3 months or as needed to maintain the desired style.
Can I style my wig after trimming?
Sure! You can do any styling after finishing the trimming.
What tools do I need to trim a wig?
Scissors, Mirror, Comb, Wig Stand, A Few Clips.
Is it possible to undo a wig trim if I make a mistake?
While it's not possible to reverse the cut, you can style the wig differently to camouflage any minor mistakes.
Leave a comment
Kinky Edges Wig
Glueless HD Wig
Crazy Flash Sale
Pre Cut Lace Wig