Best Lace Front Wigs Reviews From Real Customers
Wigs for black women is very important for every day. Whether you just want to switch up your hairstyle or you're looking to achieve a long flowy look without having to wait for your own hair to grow out, a lace front wig offers numerous benefits and it is your best choice.
The lace front wig was widely used for women, when you want to buy the best lace front wig, you must want to know the honestly reviews from real customers, then you can make a good choice to have the lace front human hair wigs. Sunber wigs for sale have 13 by 4 lace front wig and 13 by 6 lace front wig, transparent lace wig, fake scalp lace wig and 360 lace front wig for you choose.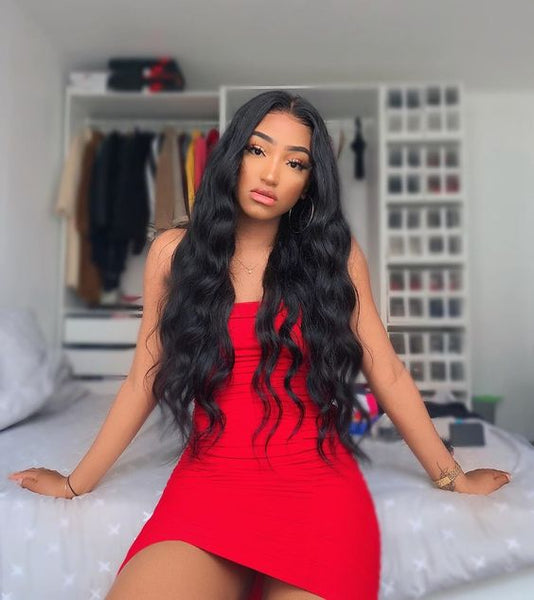 First, What Is Lace Front Wig?
A lace front wig is a special kind of wig that is made up of premium quality human hair, or sometimes even high quality synthetic hair, attached to a lace like a layer that you put on the top of your head.
The 13x4 lace front wig is a kind of human hair wig with a piece of 13x4 medium brown color lace frontal closure sew-in on the top front of the wig. The lace is placed at the right place of the head to recreate a natural and beautiful hairline, and the size of the lace is 13 inches by 4 inches.
The 13x6 lace front wig is made of a piece of lace frontal closure at the top front of the head. The lace size of the transparent lace front wig is 13 inches by 6 inches, Like the 13x4 human hair lace front wigs, the coverage area of the 13x6 Brazilian lace frontal wig is also from ear to ear.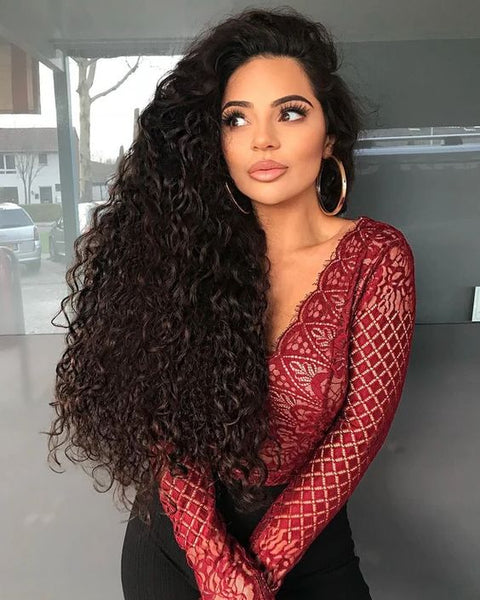 The Benefits Of A Lace Front Wig
Lace front wigs have a breathable unit, this means that it allows for the easy passage of air into the scalp. 
Lace front wigs are great for people with a thinning scalp, as it helps them make up for their bald hairline. 
With the realistic look it gives, you can style your lace front wig in a variety of ways, from side parts, fishtail braids, ponytails, or a 

messy bun

. Unlike regular wigs, its versatility allows you to style and change where the part lies on your lace front wig, while still retaining a flawless natural hairline. 
If you're in the mood to switch up colors, with a lace front wig you can rock any color you like without having to damage your hair. 
While sew-ins have to be attached to the scalp to pull off a natural look, lace front wigs give you a more natural look without having to damage your hairline. 
With proper maintenance and care, you would be able to wear your lace front wig for up to a year. Storing it by placing your wigs on a synthetic head, or in a satin sealable bag will control frizz and tangles.
The Real Reviews Of Lace Front Wig From Customers
Best Curly Lace Front Wigs with Pre Plucked, For Women, Fast Shipping
Review From Customer
Super Soft!
Hair is super soft. I didn't put any product or do any styling yet. But I loved the packaging. The hair doesn't hair a factory smell, the curls are super bouncy, & the shine doesn't make the unit look "wiggy". Will come back to do another review once I finish customizing it.
Review From Danique Anderson
Great quality!
This hair is AMAZING!!! Mild to no smell straight out of the packaging, big head friendly, hair barely sheds and its not hard to detangle or maintain. Lastly, it is super full! Money well spent
Review From Lataynia Burton
Curly Lace Front Wig 180% Density
The hair was very soft . Not much shred . The curl pattern is amazing . I would definitely recommend to buy your hair from Sunber . I always shop with then. They have great deals .
9A Grade High Quality 13 By 4 Pre-Plucked Body Wave Lace Front Wigs
Review From Kelly McCain
Great Wig
This is a beautiful wig.I sold it to my friend because I want another one that is longer.The hair is soft and good quality. The knots where not visible and the lace was almost transparent
Review From Hurlz.Beauty
Beautiful
The hair is absolutely beautiful. Nice and Soft. Straightens well and holds a curl. Hairline is pre-plucked you could also customized more to fit your hairline,will coming again
Review From Anthonia
This was my first time every ordering hair offline and I must say I made the best decision choosing this vender. They kept me updated on the shipping process of my hair which arrived on time. Definitely will be ordering from this company again.
High Quality 180% Density 13 By 4 Straight HD Lace Front Wigs
Review From Kandy
I love this hair it came in 3 days . The seller was really nice and kept me updated. The hair is true to its length and extremely soft. I will be purchasing another wig from this vendor. There's no shedding or tangles, I have had my wig on for about 2 days now still in good condition. Will do business in the future! Have already recommended to others.
Review From Maka
This hair was better than i expected.the hairline was beautiful and definitely preplucked. very impressed and definitely repurchasing another one.
Review From Shonzayla
This is a very good grade of hair ! Delivery time was fast and the seller did a great job of staying in contact with me. Hair doesn't shed at all and it can hold a curl. Highly recommend!thanks guys!
13 by 4 Lace Frontal Wig With Baby Hair Body Wave Human Hair Wig
Review From Neek
The hair is amazing. Ive had it installed for about 2 weeks now & it is awesome. The hair had no smell and little shedding from me cutting it. I will be buying more hair from this vendor
Review From Ka'Liyah
Hair is BOMB!!
This hair is amazing!!!! Came in a couple of days with prime shipping. The hair is super soft, bouncy, shiny and wait for it... no chemical smell. Honestly for the price this hair is so worth it. True to length and no shedding. Ladies just buy it!!
Review From Briagaten
I love this wig .i bought a wig from sunber for the first time , am so satisfied and happy the hair is soft and thick.the delivery was fast and i appreciate the salers,they have a good contact with customers. Every thing is good .Thank you!!
9a Grade Highlight Straight Human Hair Ombre TL27 Lace Front Wigs
Review From TeeeButtaBabyyyyy
LOVED IT/FIRST TIME BUYER
my friend recommended this hair and i'm so glad she did, i got this wig for my birthday and it got here 4 days early! soft and was easy to customize the unit. 10/10 recommended
Review From Naee
Best Hair
I was so scared to order because there isn't that many reviews, But I'm definitely glad I did! This hair is so soft it's actually human hair! It had no smell 
Review From Stella Salley
Gorgeous Wig
This wig is a must have. The face framing highlights really makes the wig stand out. And the cost of the wig is affordable. I will definately be ordering from Sunber again.
Conclusions
Lace front wigs are dynamic, allowing the wearer to alter their hairstyle just like they would with their real hair. Sunber Hair offers the best lace front wigs available, as well as weave hair, lace frontals, closures, and 2021 new trendy wigs. All Made with 100% virgin hair, you'll get the natural look and feel of human hair that can be styled in any way you want. Shop our collection with the big discount today!
Leave a comment
Kinky Edges Wig
Glueless HD Wig
Crazy Flash Sale
Pre Cut Lace Wig